Faculty @ IBT
In any academic Institution, the Quality of Faculty is the most important. At IBT, we have dedicated faculty including Lecturers and Senior Lecturers headed by Mr. K Umamaheshwara Rao (M.Tech).Where We adopt the best Practice of Learning. In addition to Permanent faculty the Institute tries to ensure that leading professional from various Educational Institute and Industries is coming as visiting faculties which helps the student to have a different insight into the subject.
Principal's Desk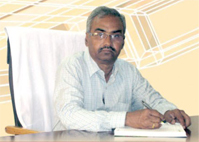 Mr. K. Umamaheshwara Rao, M.Tech. in Design & Production Engineer ( Machine Tools) From Regional Engineering College, Warangal (A.P.) in the year 1977. Thereafter, he has joined Bhilai Steel Plant, SAIL as a Graduate Engineer in the year 1977 and worked for 35 year in various field of Mechanical Maintenance , in the capacity of Deputy General Manager.

He has Written and published many papers at various international & national conference /seminars. He was also Guest Lecturer for M.Tech Classes in Chhattisgarh Swami Vivekanand Technical University, Bhilai (C.G.).
Mr. K. Umamaheshwara Rao,
M.Tech (Principal)
Mr. Malkond Raidu


Mr. Rajesh Singh


Mr. Jitesh Joshi


Mr. Deepak Soni