News & Announcements
Important Links
Institute for Business & Technology Education Society was established in 2007, managed by group of highly qualified professional of different background in Engineering and Finance. IBT is an institute that is emerging as one of the ranked Institutio in C.G. Institution is located at Ahiwara, Dist.-Durg and built over 30 acres of land, is 30 minitues drive from Bhilai and 45 min from state capital, Raipur on Berla Road.

We are a society formed in Bhilai in the state of Chhattisgarh; it is a Society formed by 8 Members with a Vision & Mission for imparting knowledge for the better Society and contributes towards its development. Where each member have certain credentials when combined together form a strong team.
Our Vision
"Our Vision is to provide Opportunity to young Men and Women for equipping themselves to get employed and contribute to the technological development of the Nation"
Our Core Values
Excellence in Technical Education
Integrity
Leadership
Commitment
One Family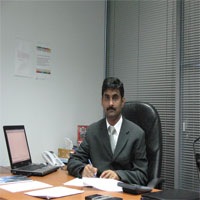 Jimmy P.James
Chartered Accountant
President, IBT Education Society
Focus
To help the industry to create infrastructure that would facilitate the Indian industry to experiment with new technologies and create next generation products and services that will have an international impact.

To contribute to large developmental projects in government and public sector, jointly with industry partner.

Imparting knowledge in more practical manner rather than theoretical way, where the Individual can enhance himself in the developing society and contribute to the society & where he/she can generate more productive , to be benefited for him/her. Developing an Individual as an Entrepreneur, where he/she can put themselves in a right path in a globalize manner without having any boundary.